Trade In
How the trade-in values work
When you trade a camera or lens in to Camera Jungle, you'll notice you're given two values, the Cash Price and Trade-In Price. The first amount is what you'll receive if you choose to withdraw the cash via either a BACS transfer or cheque. The second amount is the cash price, plus a trade-in bonus which is added when you carry out another transaction with Camera Jungle.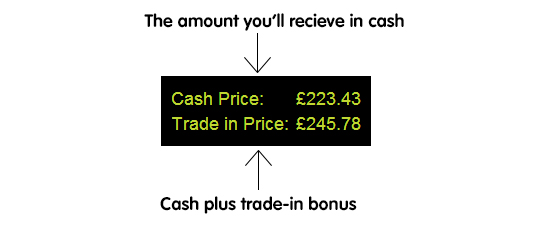 How to spend your cash
After you've sent your equipment to us, and it's been checked, we'll deposit the amount into your Camera Jungle account. From there, you can decide what to do with the amount.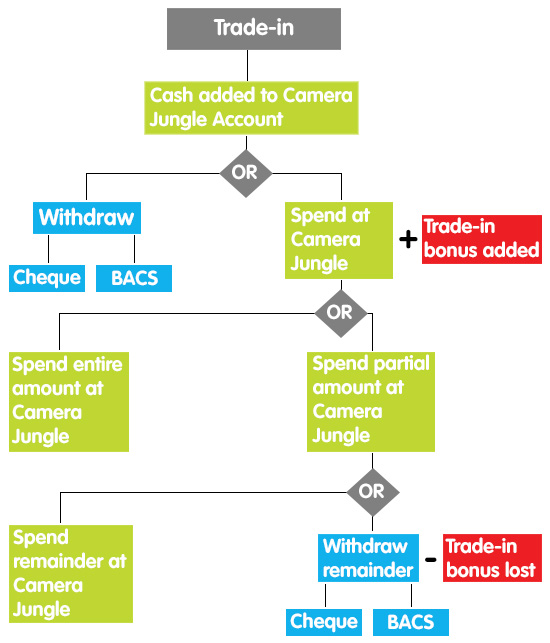 You can spend the entirety of the amount in one transaction, multiple transactions or spend some of the amount and withdraw the rest as cash. The trade in bonus will be affected if you want to withdraw the remainder of the cash after a purchase, with a percentage of the trade-in bonus lost.
For example; you trade in £100 worth of equipment and receive a £10 trade-in bonus. You then spend £200, would result in the entire trade-in bonus being used. If you only choose to spend £60 and withdraw the rest in cash, then only 60% of the trade-in bonus would be used on the purchase and the rest would be lost.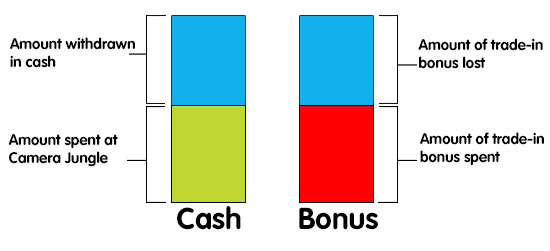 This graph shows how the trade-bonus will be impacted if some of the trade-in value is spent, and the rest withdrawn as cash. The green section is the amount spent at Camera Jungle, and the blue section is withdrawn, the impact on the trade-in bonus is shown as the blue section on the Bonus bar is lost.
How the trade-in bonus is calculated
Your trade-in bonus will be a percentage of the value of the items traded in to us. This means if you trade in multiple item the trade-in bonus you receive will be more for the higher value items. If you choose to spend a partial amount of your trade-in bonus, we'll always give you the highest value to spend first, so you'll be getting the most out of your bonus.
We even make sure you receive a retrospective trade-in bonus if you buy from us before you trade in, making sure you get the full value for your goods.
If you have any queries about your trade-in e-mail or phone us on 0330 808 3324.