How To Sell To Us
Selling your used digital camera or lens is simple. Unlike online auctions we don't charge fees, and the whole process is quick, safe and secure:
Get A Quote - Search for your model, get an instant online price, and save it.
We Can Collect - Pack up your kit and send it in (or we can arrange insured shipping, just call).
Get Paid - We pay cash by BACS, direct to your bank account.
Simple as that! Click "Get Started" or scroll down for more detail.

Find Camera
Next enter your camera or lens model name, such as 'Canon EOS 600D', in the search bar and click Go. Be as exact as you can with the model name, as incorrect information could delay your payment.

Select Condition
Select Good, Excellent, Mint or (for pro equipment only) Worn condition for your equipment. More detailed descriptions can be found in our Condition Guide.
Include Accessories
Select the accessories you'll be sending with your equipment. Some accessories, such as the battery and charger, will make more a difference to the price when not included.
Save The Quote
Once you've selected the condition and all of the accessories you'll be including, click on the Save To My Quotes button.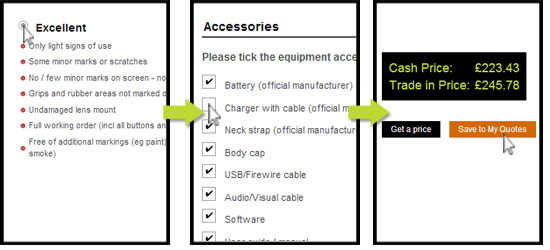 Cash Price - We can transfer your money directly into your bank account via BACS.

We can pick up your equipment using an insured courier service free of charge. Simply contact us via e-mail or phone to let us know you'd like us to book a collection.
My Quotes
Before you send the camera or lens to us, head into your account and click on the My Quotes link. Enter the serial number in the available box, then highlight the tick box to select the quote, followed by the tick box below to accept the terms and conditions. Finally click on the Accept selected quotes button.

Print PDF
Go into the My Orders section of the website, and click on the PDF icon next to the desired quote. This will open up the order in your PDF viewer, so it can be printed out and included in the box with your equipment.

Include Identification
You can photocopy your passport or driver's licence and put it in the box with your equipment, or take an image of the ID and e-mail it to id@camerajungle.co.uk.
Print Our Address
Either print or write our address on the outside of the box; PLEASE NOTE we are moving. While we are moving, we will offer to collect the items from you. Also include the CM number on the box, which appears at the bottom of the purchase order.
Your Package Checklist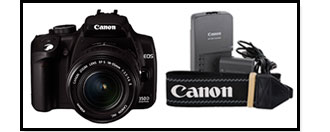 Your camera / lens and accessories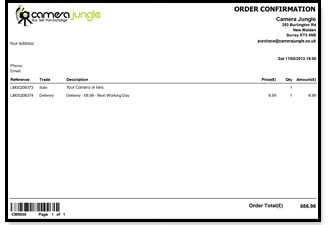 A printout of your purchase order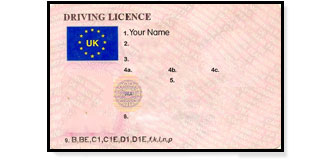 A photocopy of your driver's licence or passport

Once the equipment is inspected we can transfer the cash to you via BACS.
Cash

We put the cash straight into your account via BACS transfer. We'll contact you via e-mail to check what you'd like to do after we've inspected your equipment.